We take care of your waste so you don't have to.
WhataWaste is designed on the struggles with waste handling in the cannabis space from retail, to processing, and cultivation. We care about what happens to the product and returning unused parts of the plant back to the soil while we keep you compliant.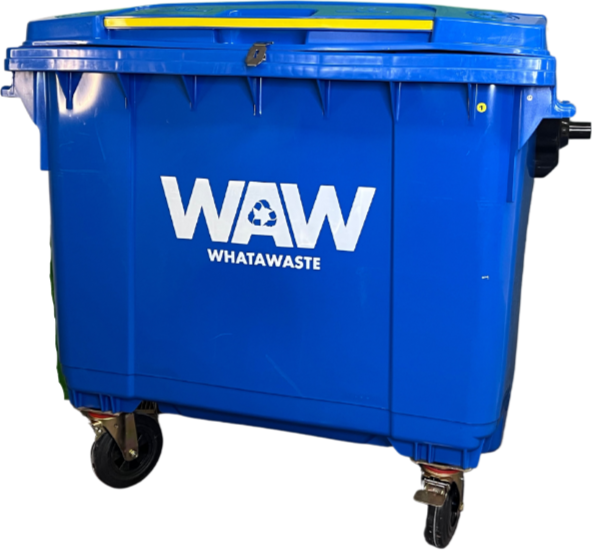 Our Mission
We understand how difficult it is to navigate compliance and keep your Medical Marijuana operation open and running. Every decision we've made and every decision we make we think of you the operator first. We see WhataWaste as a tool for peace of mind, as a set it and almost forget it with our monthly service option. You can know that the waste is handled properly and safely for the environment and for the industry. Built to serve we strive for a premium customer service experience and top-rated turnaround and response.
100L
Twice the size of a standard home trashcan perfect for small waste environments like dispensaries and small processing facilities.
240L
240L is 20% bigger than a 55-gallon drum, perfect for medium-sized Processors or Small Cultivation Facilities.
660L
660L will hold 175 Gallons of waste. We find it perfect for our larger processors and Medium-sized Cultivation Facilities.
1100L
The ultimate in size for larger sized Cultivation Facilities.
TESTIMONIALS
Whatwaste is amazing! On-time every time, clean staff, and even swept the pickup area all while being the most affordable too. I was really stressed about having to have a waste company because most looked like they were trying to put us out of business! Can't believe we found WhataWaste when we did, perfect all the way through.
– RM
I had a big problem, Lots of waste and no-waste companies would keep their appointments to pick up. I started to get stressed about getting an inspection and really wanted to be compliant, I finally called WhataWaste and they had me taken care of in days not weeks.
– JS
I had a room filled with stalks, we had always meant to shred them or burn them and just never got to it, the WhataWaste team showed up and took them all. I'm just elated to get that room back.
– DR
We've put tons of money into our businesses to make them look good, I hated most of the bins that I saw with other waste companies but when the 100L bin showed up I was super impressed and get so many compliments. I've had more than one patient try to buy it from the shop.
– KH
FAQ
How does the OMMA define medical marijuana waste?
According to the OMMA Medical Marijuana Regulations (OAC 310:681-1-4), "medical marijuana waste" means
(A) unused, surplus, returned or out-of-date marijuana; recalled marijuana; plant debris of the plant of the genus cannabis, including dead plants and all unused plant parts, except the term shall not include seeds, roots, stems, stalks and fan leaves,
(B) all product which is deemed to fail laboratory testing and cannot be remediated or decontaminated, or
(C) all products and inventory from commercial licensees that; I) have gone out of business; II) are not subject to the provisions of Section 1560 of Title 12 of the Oklahoma Statute; and III) are unable to lawfully transfer or sell the product and inventory to another commercial licensee.
Do I need to use a Licensed Marijuana Waste Disposal Company?
All material that meets the definition of medical marijuana waste MUST be sent to a licensed marijuana waste disposal company. This includes but is not limited to:
GROWERS:
Flower, trim, shake, and sugar leaves not sold or transferred
Products subject to a failed laboratory test
Dead plants
See below regarding root balls, seeds, stems, stalks, and fan leaves
PROCESSORS:
Biomass waste, regardless of THC content post extraction
Oils, edibles, vape carts, and all concentrates not sold or transferred
Product subject to a failed laboratory test
DISPENSARIES:
The unused, expired, and defective product
GROWERS are authorized to destroy ONLY root balls, seeds, stems, stalks, and fan leaves if adhering to the following:
The method of destruction must be open burning, incineration, burying, mulching, or composting.
The destruction must take place on the licensed grow premises.
How is the final disposal of my medical marijuana waste reported and tracked?
WhataWaste will provide you with a final copy of the executed manifest for your records along with your invoice for services rendered. Waste manifests shall be retained for seven years in accordance with OAC 310:681-9-6(e).
WhataWaste is licensed with METRC and is able to accept waste transfers.
What waste can a Commercial Licensee get rid of themselves?
SB882 stated unless restricted by local ordinance, commercial licensees, medical marijuana research facilities, and medical marijuana education facilities shall be authorized to destroy root balls, stems, fan leaves, and seeds on-site by open burning, incineration, burying, mulching, composting, or any other technique approved by the Department of Environmental Quality (DEQ).
What documents are needed if Commercial Licensee decides to engage in the disposal of marijuana waste themselves?
Commercial licensees, medical marijuana research facilities, and medical marijuana education facilities engaged in the disposal of medical marijuana waste shall create and maintain documentation on a form prescribed by the Oklahoma Marijuana Authority that includes precise weights or counts of medical marijuana waste and the manner in which the medical marijuana waste is disposed of. Such documentation shall contain a witness affidavit and signature attesting to the lawful disposal of the medical marijuana waste under penalty of perjury. All disposal records shall be maintained by commercial licensees, medical marijuana research facilities, and medical marijuana educational facilities for a period of five (5) years and shall be subject to inspection and auditing by the Authority.
Does Medical Marijuana Waste need to be Tracked and Traced?
Yes, all waste needs to be tracked and traced. WhataWaste provides our customers with an electronic manifest (email) as soon as we pick up your waste and you will receive another email once the waste has been properly treated and disposed of.
Will signing up with WhataWaste help me be compliant with Oklahoma's Medical Marijuana Waste Regulations?
Yes, WhataWaste is a licensed Medical Marijuana Disposal Company with the Oklahoma Medical Marijuana Authority and Department of Environmental Quality and can help any licensee who already conducts activities, or plan to obtain a license be compliant with Oklahoma's State regulations as it pertains to proper waste management.
What are the benefits of signing up with WhataWaste?
WhataWaste is a Medical Marijuana Waste Disposal Company that is devoted to the success of our customer's business by assisting each individual licensee to stay in compliance with OMMA and DEQ rules and regulations. By using our service, a licensee can concentrate on what he/she does best in producing Medical Marijuana products and not have to worry about the liabilities of their waste.
Who produces cannabis waste?
All licensees in the cannabis market produce their own special type of waste. Please contact us today to learn more. As an example, retailers often see expired or returned items, which can't be sold and definitely can't just be thrown away. Extractors use chemicals, solvents, and lots of water in their process that can't be flushed away. Cultivators see the most amount of waste during harvest as any plant material, soil, or packaging that has come in contact with THC must be disposed of properly.
How often does my waste need to be picked up?
Totally depends on your waste quantity! We provide the right containers based on how much waste you generate so the pickup schedule is tailored to you.
Can I schedule Individual pickups?
WhataWaste offers very flexible services for clients of all sizes. WhataWaste services can be individual pickups or scheduled daily, weekly, or monthly pickups.
Can I throw my Medical Marijuana product into the standard trash receptacle?
No, an operator cannot throw Medical Marijuana products into conventional trash receptacles as this is not compliant with OMMA Regulations. A licensed Medical Marijuana waste disposal company must manage medical Marijuana products.
What gets incinerated and why?
Pesticides are terrifying and the concerns with pesticides in soils are only becoming more concerning. We felt strongly about making sure we were incinerating things that we didn't want on our soil. We are undergoing the process of getting our soil permit from The Department of Environmental Quality to produce high-quality soil.